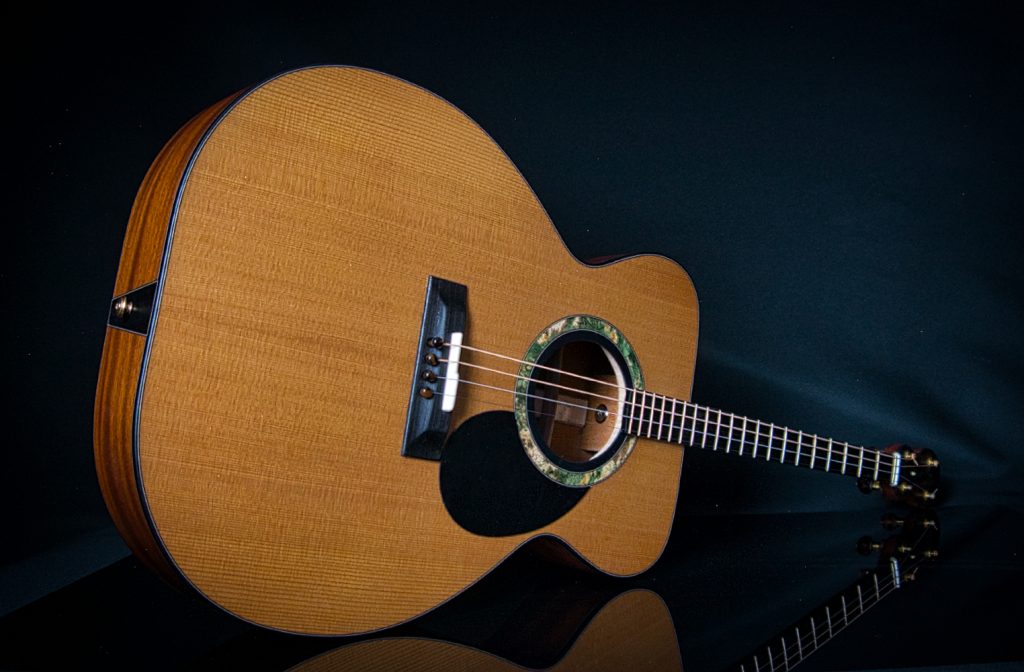 The Session King tenor guitar is regarded by many as the best handmade tenor guitar in the market today.
Not many luthiers take the tenor guitar, or the longer scale plectrum guitar very seriously. Many of you may own a vintage tenor guitar. Disappointing aren't they? Tenor guitar design was overdue an overhaul, and that's just what I did.
The handmade Session King tenor guitar is turning out to be one of my more popular models. Order the stripped down basic model, or upgrade the materials for something a little more special.
The most popular upgrade is to opt for a torrefied sitka soundboard – the sound is a little more open and complex than that of a cedrela soundboard. But the cedrela is nothing to be sniffed at – it has a great raw sound you can't get from spruce.
Most of these pictures are of Session Kings with multiple upgrades – You can design your own Session King according to your taste and budget.
If you'd like a handmade tenor guitar, and you want the best, get in touch through the contact form at the bottom of the page.
Nigel made me a dream tenor guitar: wonderful tonewoods, amazing finish and that rare balance of clarity from the bottom to the very top. It's right up there with the very best of my vintage Martins and Gibsons, with a finer edge.

Ed Baden-Powell - England
The Session King holds its own easily with the banjo. In fact, while we were picking yesterday I had to hold back while playing backup as the tenor was overpowering the banjo. I've been thinking about what to compare the power of this guitar to. While playing two-finger backup chords, it's a bit like shooting a shotgun. The chords boom out with surprising authority. So, there's a learning curve to it. It's refreshing to play a tenor with power to spare.

Steve Wilke, USA
Nigel, I have had quite a few high quality guitars in my life, but yours is the most extraordinary sounding one I have ever owned. That is no exaggeration; it is simply magnificent. It was superb when I got it, and amazingly, sounds even better now. Plus, it has great action, first rate playability. Tell me the truth: Is this the best one of these four-stringers you have ever made? I wouldn't be surprised.
I really can't imagine how its sound could be improved upon.


Will Morgan, USA
Beautiful! I love the guitar; it is perfect for the cello music that I play. I've never heard a guitar like this before. When I close my eyes I think I'm hearing a harpsichord! Thanks for the great opportunity.


Pamela Davis, USA
"Nigel exhibits that dogged passion and perseverance that's made him a master at his trade; perfect blend of engineer + artist. He took time to absorb all my requests and then gifted me with an instrument that blew past my expectations. Pinch me - I'm a lucky new owner of a Session King!"

Bob MacNeil, Canada
Material

Soundboard - cedrela - a lightweight durable hardwood which has the appearance of a mahogany, yet a tone more like that of a thirty year old mahogany guitar.

Many upgrades are available.

Back and sides - mahogany, once again, many upgrades are possible.

Neck - mahogany, Pacific maple, American maple or New Guinea rosewood.

Fretboard - rocklite bound ebony or bog oak.

Bridge - rocklite ebano

Hardware

Tuners - Gotoh gold banjo tuners

Frets - Evo gold hand polished frets

Nut and saddle - hand polished bone.

Dimensions

body width: 395mm 15 1/2″
body depth - 110mm 3.9″
scale - 24.75″ or 22" or custom
nut - 32mm or custom
tuning - GDAE, GDAD, ADAD or similar