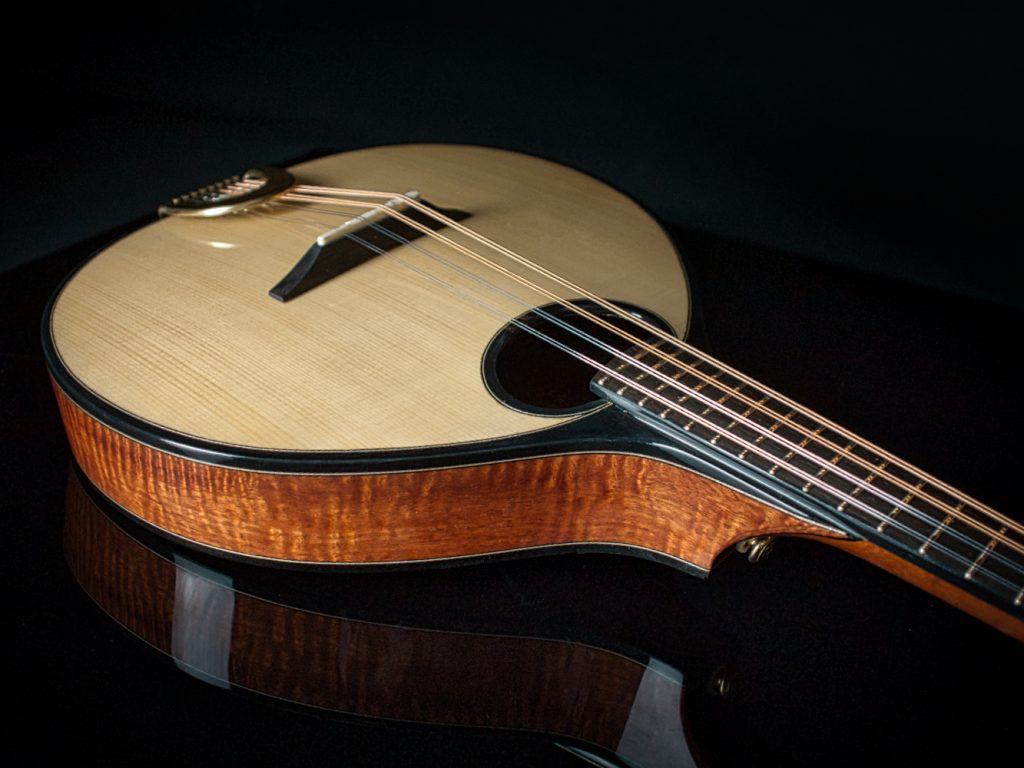 The Small Celtic O mandolin isn't so small! It's just a bit smaller than my regular mandolins which are really big. The Small Celtic O mandolin is similar in size to a Sobell Celtic mandolin. The design and construction is similar to the larger model, but the sound has more focus, with excellent projection.
The Small Celtic O mandolin back is curved rather than carved.
The instruments featured are a beautiful high gloss  Small Celtic O mandolin in European spruce and flam jarrah, and a a satin finish prototype in European spruce and maple.
The Small Celtic O mandolin is shipped in a hard case, in a plywood packing crate.
"My Forster O mandolin is very bright which cuts through really well and I didn't have any problems hearing it in a session despite having two border pipes near me! My playing was more precise as I wasn't accidentally hitting other strings when playing so that was much better than the other mandolins I have. I really like the wide neck which is something I hadn't considered before. The actions works well for me and again this makes it an easy instrument to play. Very pleased with the mandolin so thank you. "

- Ken, Country Durham, England.
"There are so many things I could say because of how I feel about this instrument. Basically, over the top happy to have it in my life. Beautiful to look at, a joy to play and exceptional sound quality. I am so impressed by the exceptional artistry, quality of materials, superior craftsmanship and innovative design. It is a dream to play. I love its solid feel, its responsive, expressive voice, rich tone, dynamic range and lush sustain."

- Valerie, USA.

Material

Soundboard – mature seasoned European spruce

Back and sides – there are many options - mahogany, maple, figured mahogany, wenge, ziricote or figured bubinga.

Neck - mahogany.

Fretboard - ancient bog oak.

Bridge - rocklite ebano, ebony or maple.

Hardware

Tuners - Gotoh 510

Frets - hand polished Evo gold frets

Nut and saddle - hand polished bone.

Tailpiece - custom made, hand polished solid brass.

Dimensions

body width - 290mm
body length - 325mm
depth at tail - 50mm
nut width -8st 34mm 10st 38mm
scale length - 347mm