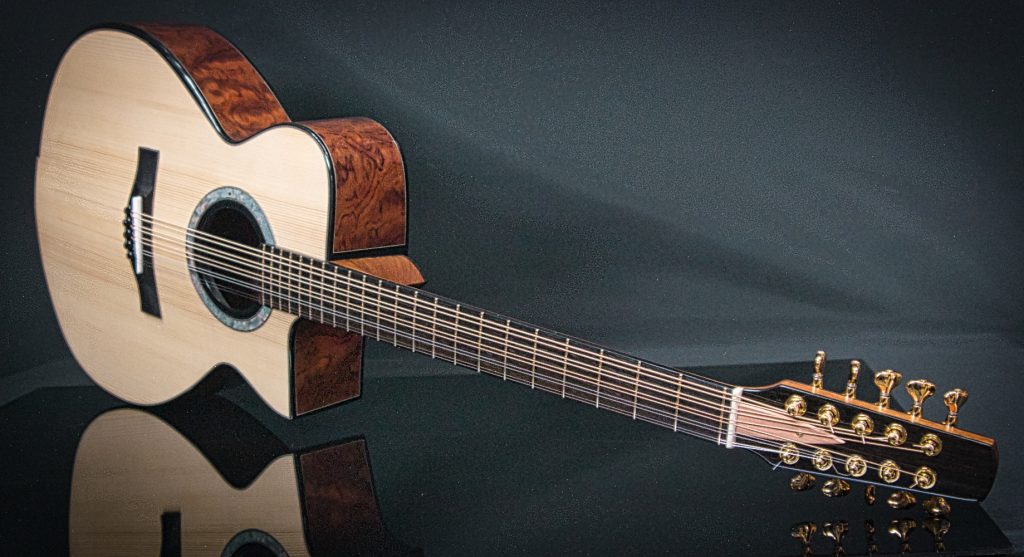 The guitar bouzouki is one of my most popular instruments. Most folk order the GZ-HO model. The HO design is based on the old Howe-Orme design. The soundboard is made with an arched "cylinder top" soundboard – the top has a pronounced arch down the centre, to resist the pull of the strings, strengthened further with an X brace.
8 stings or 10 strings. The choice is yours.
If you'd like a guitar-bouzouki or a guitar-octave mandolin, and you want the best, get in touch through the contact form at the bottom of the page.
I own and frequently perform with a guitar-bouzouki recently built by Nigel. There is no other instrument out there like this. It has a huge sound — punchy, clear, sparkly, and way more low end than any other bouzoukis or octave mandolins I've ever tried. After every show I play, people come up and tell me how much they love the sound of it. Nigel is a true innovator!

- Forrest O'Connor, USA
Nigel makes great instruments, lively, well built, with great projection as well as fun to play.

- Jim Moginie (Midnight Oil) Australia
I initially bought a mandolin from Nigel Forster back in 2012. I was floored by the quality of its build and the sweetness of its sound. So impressed was I that six months later, I commissioned a GBOM. Much to my joy, Nigel delivered it by hand to me in Seattle. To say that it was impressive is an understatement! The neck felt perfect, the fit and finish were as good as could be, but the thing that really floored me was the sound. My god, what a sound! It was at the same time clear, deep, full, loud, complex and 3-dimensional in tone, yet capable of true subtlety as well.

When it arrived, I had 21 other cittern/bouzouki/octave mandolin instruments, all from famous builders with long waiting lists. Nigel's GBOM sounded better to me than any of them. Over the course of a few years (and an embarrassing number of hours in side-by-side comparison), I came to the conclusion that the Forster was the only one of them that I needed. The others have all found new homes, and, 6 years after its arrival, I now happily own only one CBOM-family instrument, the one that Nigel built me.

- Andy Marshall, USA
Without getting too carried away, I LOVE my gzouk and play it a lot. I have a Sobel mandola for tunes, - I play in a ceilidh band - but the gzouk is brilliant for rhythm, chords-ing, tunes, and arrangements. The sound is fantastic.

- David Sawtell, England
This is by far the best playing, best sounding and all round most beautiful instrument I've ever been fortunate enough to own. A couple of years in and It's still a genuinely uplifting experience every time I pick it up.

- Sam Patten, England
My NK Forster guitar bouzouki is an instrument unlike any I had played before. It has a great evenness of tone across its entire range, incredibly stable intonation, great dynamics and a startling level of projection. I had not experienced this amount of bass response from a bouzouki before - it truly synthesises the unique strengths of the bouzouki and the guitar. Aside to this, it is very comfortable to hold and to play, as well as being a beautiful piece of craftsmanship.

- Luc McNally, Scotland
I have played Nigel's Guitar-Bouzouki for the past few years, no doubt this instrument is second to none. When I played the first notes I knew that I had found the instrument that I had been looking for years, with powerful bass but also crystal clear highs, however, it was not until I recorded my Alpha CD when I could check the number of nuances it Guitar-Bouzouki provided me, I was amazed. You can hear it on my CD Alpha. Thank you Nigel for your talent and good work

- Xurxo Iglesias, Spain
"I am very glad I found your website back when I was searching for a bouzouki and got both the mandolin and bouzouki from you. They are such nice instruments. Thanks for building them for me!"

- James Lummis, USA
Material

Soundboard – mature seasoned European spruce or Western red cedar.

Back and sides – there are many options - mahogany, maple, figured mahogany, wenge, ziricote or figured bubinga.

Neck - New Guinea rosewood, American maple.

Fretboard - fine Sri Lanka ebony or ancient bog oak.

Bridge - rocklite ebano.



Hardware

Tuners - Gold Gotoh 510.

Frets - hand polished Evo gold frets.

Nut and saddle - hand polished bone.

Dimensions

body width: 395mm 15 1/2″
body depth: 120mm 4.7″
scale: 24.75″ or custom
nut: 36mm or custom
tuning: GDAE, GDAD, ADAD or similar