Importing Tortis pickguards…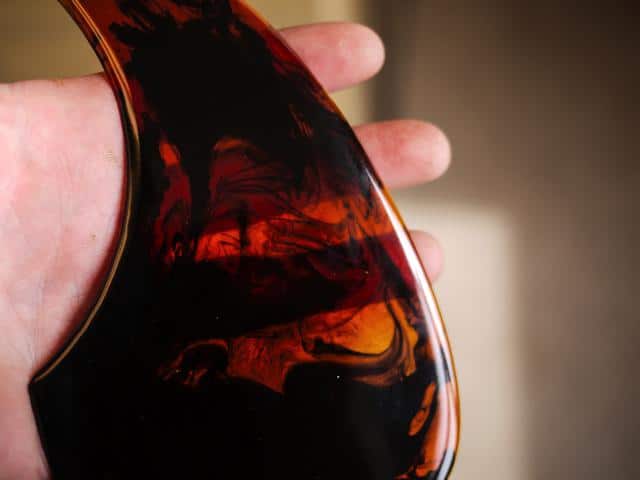 Necessity is the mother of invention apparently.
Ever seen those Tortis pick guards? They're really nice. American luthier John Greven started making them first, then someone else took the making over. In the past I've bought and fitted a few of them from LMI in the USA. They had trouble with the supplier so they make their own now.
I first saw a Tortis pick guard on a Sobell guitar belonging to Newcastle musician Maurice Condie. Maurice buys them from LMI and carefully fits them to each guitar he gets. And they look really smart with their high gloss and soft bevelled edge.
Classy.
But now I'm in Germany. There are many good things about living here – the people, the food, (even the weather is good compared to England,) but one of the downsides of being here is bureaucracy – importing stuff from outside the EU is a right royal P.I.T.A. There are forms to fill, charges to pay which often come to more than the value of the goods themselves, so when I wanted to order some more Tortis pick guards this year the first thing I did was ask about on a couple of forums to see if anyone in Europe was making something similar to save me the hassle.
No.
So I decided to have a go and make some myself. Can't be hard can it?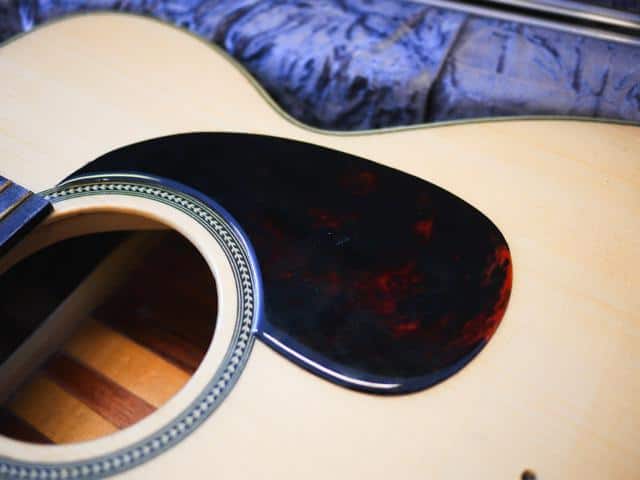 It's a bit more complicated than I imagined. But it's an interesting process – a mixture of artistic and technical skills is needed, but after a lot a experimenting and a lot of rejects the results I'm getting are great – so now I can make my own fancy pick guards that fit my models exactly without having to ship them in from overseas.
Stay tuned. (As in – "sign up to my newsletter") – in time I may well start selling standard sized guards to fit your Martin, Taylor or Gibson on eBay. If you'd like one for your guitar, drop me a line.
BTW, the pictures are of the pickguards I've made, not Tor-tis. Smart eh?