Is it a guitar? Is it a bouzouki? No. It's a guitar-bouzouki. Or a bouzouki guitar. Or a guzouki….It is said that there are no new ideas, only old ideas cobbled together. And there's a fair amount of truth in that…the guitar bouzouki being a case in point.
There are a number of precursors to the modern guitar bouzouki. Perhaps the best place to begin the story of the guitar bouzouki is with the instrument which directly preceded it – the Irish bouzouki.
From Irish bouzouki to guitar bouzouki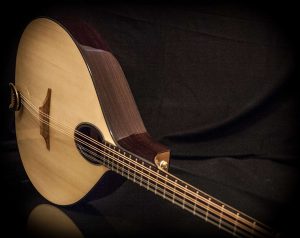 Who made the first one of these is another point of debate, and another post in itself but the co census seems to be that most of the first "Irish" bouzoukis were built by Englishmen, first John Bailey, then Peter Abnett shortly followed by Stefan Sobell all in the early 70s.
Abnett and Sobell both made instruments based on mandolin-like tunings, set an octave below. Sobell's early instruments were a hybrid of two old instruments he owned, a carved top Martin guitar and a Portuguese guitarra, neither of which quite "did" what he wanted. Stefan made an instrument because what he wanted didn't exist. When others saw him perform with this new creation, they wanted one too. Before he knew it, he was a "luthier" and before long almost every influential folk musician of his generation played one of his instruments.
I digress…A few years back I was sitting in a restaurant with a few guitar makers, amongst them was Irish luthier, Chris Larkin. He told me an interesting story about the first guitar bodied bouzouki. I emailed Chris recently about this, and this is his reply:
The first guitar bouzouki – Chris Larkin
"This was in the late 80s I think…Andy Irvine arrived outside our house at about 3.30 am as he came directly from a gig somewhere in Cork. He didn't want to disturb us so he slept in the car until he saw we were up and about.
He arrived with a brand new Takamine guitar. He told me he liked the sound of the pickup/preamp and asked me to turn it into a bouzouki while he waited!
The headstock was easy – remove the middle tuner on each side, blocking the hole and then adding two tuners each side suitably spaced. I made a new nut with zouk spacing.
My problem was how to anchor the eight strings at the bridge. Ideally, if there had been time, I would have filled the holes and drilled newness with staggered zouk spacings. But there wasn't time so, after asking Andy's permission, I leveled the back section of the bridge and screwed on a sheet of brass that has eight slots at the back to hold the strings ballends. Not pretty but effective.
Strung up and tested it all worked and Andy was happy with his first guitar bouzouki. Obviously, the neck width was all wrong but it showed that the concept would work and he later got Stefan to make him a custom version without the brass plate! After this, I was inspired to make my own guitar bouzoukis."
Here is a video of Andy Irvine playing the Takamine/Larkin guitar bouzouki:
The first custom guitar bouzouki – Stefan Sobell
It was in the late 1980s when well regarded Irish musician Andy Irvine commissioned Sobell to make him a guitar shaped bouzouki. Andy and Stefan had known one another for many years by this time and Irvine had owned Sobell instruments in the past. This time Andy not only sought a warmer rounder sound than a "traditional" Irish bouzouki, but wanted an instrument that was easier to hold. Added to this was the need to capo high up the neck to suit playing in certain keys.
As Stefan's young apprentice I remember the order coming in, and the design process it involved quite well. When faced with the challenge of making a full length (650mm scale) neck which joined the body at the 16th fret rather than the 14th, Stefan told me of the importance on moving the shoulders "in" rather than moving the neck "out" to maintain the bridge position relative to the sound hole and tail. I also recall we briefly toyed with making a cutaway but at the time we'd never made a cutaway guitar before, and stayed with the "16 frets to the body" idea.
So the first guitar bouzouki was based on a standard Sobell guitar shape with the shoulders brought in to expose the 15th and 16th frets. We made an insert to fill the upper part of the mold, so the rest of the shape really was "standard." To ensure the X brace crossed as far from the bridge as possible (another Sobell design preference) a soft "triangular" sound hole was also adopted which had been used on the Sobell citterns, Irish bouzouki, mandolins and octave mandolins for many years. Adopting a round hole of similar size would force the X join position towards the bridge, opening the legs of the X apart. (Luthiers take note!)
The long neck combined with the shortened top bout, non-circular soundhole gave the instrument a distinct appearance.
It took a while to catch on but with Andy touring a few orders came in most years for guitar bouzoukis. After Sobell's initial instrument, many other makers (mainly British) also experimented with the design – Fylde, Moon, and I'm sure many others too have all made guitar bouzoukis.
But what about before Sobell and the 1980s?
During the 1900s up until the 1920s America enjoyed something of a "mandolin orchestra" boom. The clever marketing departments of companies like Gibson made it their business to encourage music teachers to form orchestras composed of fretted stringed instruments: mandolins, mandolas, guitars and such.
Gibson made several versions – most were of the "giant mandolin" variety like this Gilchrist Model 5.
Others had "O" holes rather than "F" holes:
With the much revered Lloyd Loar at the helm of the R&D department, Gibson introduced the K-5 mandocello in 1924.The K-5 had a carved, f-hole body, a long scale neck (just shy of 25") which joined the body at the 14th fret. A number of modern makers (including Eastman) are making modern versions of the old K-5. But these were tuned CGDA, and octave below a mandola or a viola.
Pre Gibson?
The Howe Orme company of Boston made a number of guitar shaped, short scale mandolin family instruments in the 1890s which are precursors of Gibson by 30 years to the Sobell instrument of the 1980s by around 90 years!. They made a delightful looking 8 string mandola style instruments with 19″ scale and ten frets to the body. These instruments usually had a floating bridge and a pressed/forced thin arched spruce top.
Guitar Bouzouki today
Many luthiers are making these fascinating instruments and are continuing to push the design to see what it's capable of: The British makers still seem to be making the majority of them – myself (Forster) Sobell, Moon, Fylde, DeFotoe tend to follow what you could call the "Celtic" model. Makers in the US and Australia with a few exceptions tend to take the more "Gibson inspired" route for mandola and bouzouki style instruments.
The Forster guitar bouzouki
The guitar bouzoukis I made prior to 2009 were made with my "standard" soundboard pattern, which was itself a development of the Sobell "arched" design. Since 2009 all my guitar bouzoukis have been an X braced version of the Howe Orme "cylinder top" design. It didn't occur to me that I'd become something of a "bouzar" or is it "gzouki?" specialist, but it seems to be the case as in recent years a high percentage of my orders have been for guitar bouzoukis.
An interesting future?
What I love about making guitar bouzoukis is how open to different ideas the owners are. There is no "traditional approach" as such, as the "Celtic" instrument has only been around for twenty-five years or so, and the design was from the start unconventional. So it means makers really are free to play around with the design, without falling foul of purists who think it should look a certain way. That's a nice position to be in, and not as common in the instrument world as you'd hope or think.
So the story is far from over, stay tuned for the next installment!