Is this the best sounding acoustic guitar I've ever made? I think so…
Earlier this year I made a guitar for Tom Fletcher. Tom wanted a Model D. For playing DADGAD. That's all he knew. He wasn't sure about the woods, or the scale or the top design he wanted. So he left the design to me.
What I came up with was this:
An Indian rosewood and torrefied sitka spruce Model D-SS.
And it was the best sounding guitar I've ever made. Or worked on. And I mean the best sounding guitar since I started the trade in 1988. A truly magnificent sounding guitar, and nothing like a traditional American D guitar. It sounds like my Model S or C but with a warmth you can't get from a guitar with a tight waist.
Why did it sound so good?
Well, it was nothing to do with the rosewood. I chose Indian rosewood because it looks nice. No other reason.
With my guitars, it is all about the soundboard. The back and sides are laminated – to be very thick, stiff and strong. In doing so I effectively take them out of the "sonic equation."
It took me years to realise that using conventional Brazilian rosewood back and sides did the same thing. At least it did the way I used the stuff. Brazilian rosewood back and sides would be so stiff and dense, that they effectively took themselves out of that sonic equation:
When you paired a top with good Brazilian, what you heard was the top.
Not the back and sides.

As soon as you switched to a lesser wood like Indian, or anything else that matter, you were attaching the top to something less stiff, less strong, less dense. So what you heard was the top minus whatever it was you were attaching it to. All these woods have an effect – but the effect is they all take something different away from the sound. They don't add to the sound. What I wanted to do was take nothing away. So the only way you can mitigate this detrimental effect is by laminating the back and sides to replicate the response I'd get from using the best rosewoods.
So when I started experimenting with adding mass to the back and sides of my work, I added a lot of mass. It worked a treat – the guitars sounded great, but all that added mass upset those who were expecting a guitar to conform to what they felt they knew. So I experimented with different ways of laminating that did what I wanted without adding too much mass.
So it ain't about the back and sides.
So what about the top?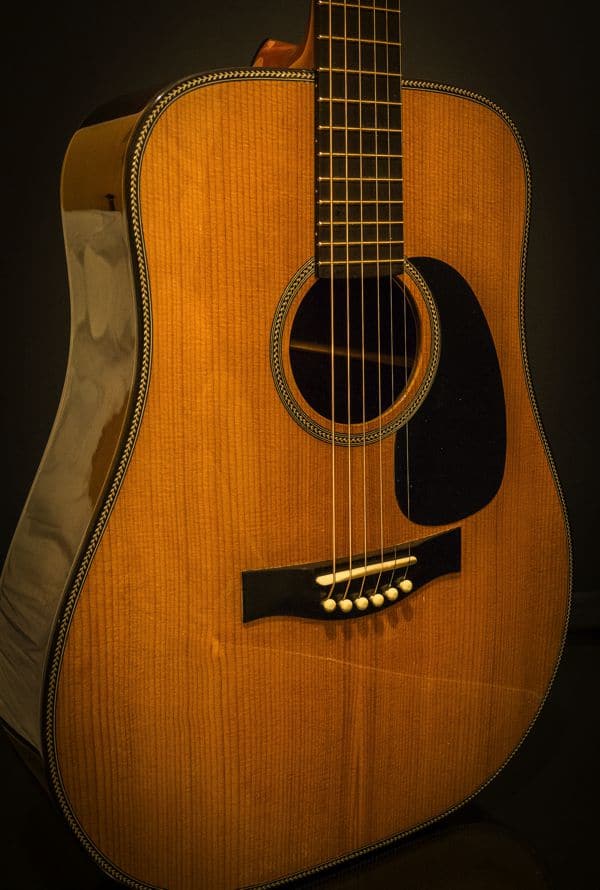 Tom is a big Martin Simpson fan. You can hear it in his playing. So the SS style soundboard I make was the obvious choice. My SS soundboard is based on the old Sobell design we used in the 90s and early naughties. But I changed the bracing a little to reduce the brace mass yet make it just as strong. The arching is a little different too, as I wanted the guitars to be a little mellower.
But what material for the soundboard?
It didn't take me long to turn to torrefied sitka. Why? Well, have you seen the video I made last year about torrefied sitka spruce guitars? I'm a big fan.
And I love how open the guitars sound.
So what does it sound like?
Have a listen. Plug your decent speakers in, or put on some headphones. Pour yourself a glass of something nice and enjoy.
If you'd like me to make you a similar guitar. Drop me a line.
I'd love to.