The guitar bouzouki is one of my most popular instruments. Based on the old Howe-Orme design. The soundboard is made with an arched "cylinder top" soundboard – the top has a pronounced arch down the centre, to resist the pull of the strings,  strengthened further with an X brace.
You can read more about the construction HERE.
I have made a short video about the instrument, you can see it HERE.
"I own and frequently perform with a guitar-bouzouki recently built by Nigel. There is no other instrument out there like this. It has a huge sound — punchy, clear, sparkly, and way more low end than any other bouzoukis or octave mandolins I've ever tried. After every show I play, people come up and tell me how much they love the sound of it. Nigel is a true innovator!"  Forrest O'Connor, USA

Soundboard – mature seasoned European spruce, back and sides – aged Indian rosewood, mahogany, maple, figured mahogany or bubinga. The neck is 1908 vintage Cuban mahogany whilst the fretboard is fine Sri Lanka ebony  and the bridge "ebonised" fruitwood. Here you can see a figured bubinga arch back guitar bouzouki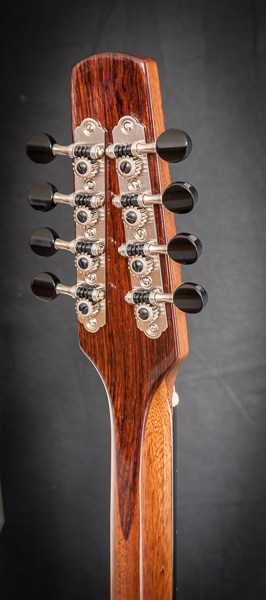 I've tried allsorts of tuners over the years and have and to be honest, once you rule out the ones that don't perform well enough you're left with three choices – Gotoh 510s, Hipshot and Rubner. All look great and all perform as they should.
The nut and saddle are both bone.
body width: 390mm 15 3/8″
body depth: 100mm 4″
scale: 24.75″ or custom
nut: 36mm or custom
tuning: GDAE, GDAD, ADAD or similar